GPS Tracking can be used for various purposes and different types of assets by offering several benefits, such as reducing operating costs and improving productivity.
Non-powered asset tracking is one of the asset types benefiting from the features of GPS Tracking. Non-powered assets include trailers, water tanks, heavy equipment, trailers, bins and other types of containers. These types of high value assets are not equipped with a power source and so non-powered asset tracking is the perfect solution to streamline asset management.
What is Non-Powered Asset Tracking & Why is it Important?
Non-powered asset tracking is a method of monitoring and tracking assets without the need for an external power source. Utilizing a small, mountable battery-powered unit, companies can track the movement of their high value assets anywhere they may be. This allows fleet managers to keep track of their assets without having to rely on manual processes or more costly solutions.
By using a centralized GPS tracking software solution, your company can consolidate location and sensor data of your assets into a single portal to streamline asset management, improve productivity, billing accuracy, and reduce loss.
In addition, it provides you with full asset visibility, including location, status, usage history, and asset maintenance in a web-based dashboard. The software can generate reports for you to get insights into your assets and help you schedule maintenance at right time.
Non-powered asset tracking can help businesses save time and money by reducing labour costs, increasing efficiency, and improving accuracy in inventory management.
The Top Benefits of Non-Powered Asset Tracking
Non-powered asset tracking is a cost-effective and reliable way to keep track of valuable assets. It eliminates the need for expensive and complex powered tracking systems, while still providing the same level of accuracy and visibility. With non-powered asset tracking, businesses can benefit from improved efficiency, reduced costs, and increased safety. There are several advantages to using non-powered asset tracking;
Visibility
Asset tracking devices provide dynamic data on the location of your high-value assets and sensor data like temperature. With a cloud-based system and integrated mobile application, a fleet manager can get real-time asset tracking visibility with detailed reports on their location while field workers monitor key data like geofence status, fuel level or temperature.
Enhanced security
Lost or stolen equipment causes downtime resulting in loss of revenue for businesses that lease or own equipment. Asset theft is on the rise globally.
Using real-time geofence alerts to create a virtual boundary that triggers an immediate warning detects potential theft or unauthorized use. You can prevent potential loss and impact on your business by taking immediate preventative action.
Optimize productivity
With centralized data, managers can see quickly where they are wasting assets and money.
In addition, asset management solution can reduce paperwork, simplify workflow and optimize processes by collecting data in one application accessible anywhere anytime.
Fleet mangers can make quicker decisions with real-time insight into the company's assets' current location, status, and availability.
Enhance Asset lifetime management
When it comes to asset tracking solutions, it's not only tracking, but also monitoring mechanical health and asset status based on usage indicators. It provides you with a clear insight into the asset status such as fuel level, temperature, speed, and other parameters. This helps manage key activities like scheduling maintenance or delivering fuel on time.
Options for any asset type
Choosing the best Asset Tracking Device for your business can be challenging. Especially when solutions and devices vastly vary between providers. Here are some tested and reliable options which meet different equipment needs;
For Construction & Trailers
Solar-Powered 4G LTE-M GPS Tracker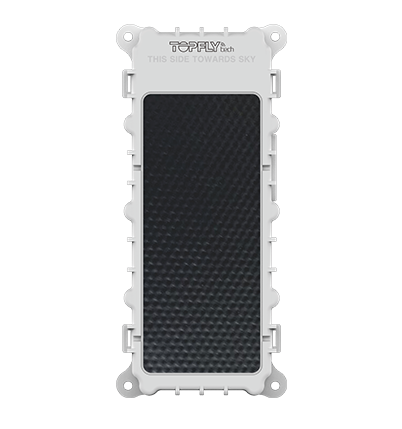 This GPS tracking device is designed to track the location of assets with a large internal battery  and Bluetooth technology for wireless sensors. This is the best mount and go type device for heavy equipment because it is built to withstand the harshest environments, vibration, and dust.
For Reefers
Our Solar BLE GPS Tracker supports wireless BLE sensors for reefer and door open.  This is a simple, cost-effective solution, which doesn't require any wiring or a costly installation.  This device is purpose-built for this type of application.
For Agriculture

Our rugged tracker supports both powered and unpowered applications and comes with inputs, outputs, and an optional BLE radio for wireless sensors. With an IP68-rated casing, it is designed to operate under extreme environments against water and dust. It is also equipped with GPIOs for varieties of application expandability and flexibility by connecting to a wide range of accessories.
How to Choose the Best Non-Powered Asset Tracking Solution for Your Business Needs
Choosing the best non-powered asset tracking solution for your business needs can be a challenge. With so many options available, it can be difficult to decide which one is best suited for your needs. To make the right choice, you need to consider factors such as cost, scalability, accuracy, and reliability of the system.
With Astreon, we offer seamless integration with Asset Tracking management and devices. We provide tailored Asset Tracking Devices that are compatible with dozens of enterprise systems. Our Asset Tracking Management system also provides dynamic data including the location & status of assets in the field. By customizing the solution with specialty applications, you can customize the solution to your specific needs.
Learn more about our Asset Tracking management solution at Astreon