Under uncertain circumstances due to COVID-19, strict restrictions have been imposed almost every month. This has huge impact on the transportation industry, especially long-haul drivers. Even though truck drivers are exempted from COVID-19 restrictions, they experience job stress from many sources. In addition, it is obvious that these COVID-19 restrictions accelerated their stress level too.
Truck driver shortage
North America is facing a serious shortage of truck drivers. According to the American Trucking Association (ATA), the shortage of truck driver was 60,800 and is estimated to reach 160,000 by 2028 in U.S. Whereas, Canada is expected to short 25,000 truck drivers by 2023 according to a study from Trucking HR Canada.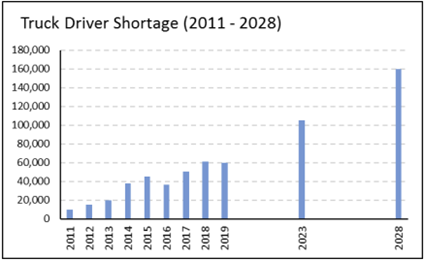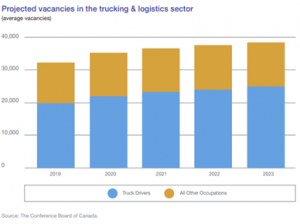 This estimated trend and the stressful environment caused by COVID-19 could accelerate the shortage of truck drivers and exacerbate disruptions to supply chains in near future.
What's major stress factors for truck drivers
The stress factors for truck drivers range from a salary to pressure of on-time delivery.
The following are some stress factors for truck drivers;
Long hours
Tight deadlines
Difficult weather
Dangerous drivers
Low salary
Social isolation
Distance from home
Road rage and fear of violence
How telematics can improve driver's health, safety and retention
There are 5 ways you can improve driver's health, safety and retention aside from increasing salary.
Monitor driver's behavior
Monitoring driver's behavior can prevent unnecessary accidents and train their behavior. With telematics, you can gain insight to reduce dangerous events, such as harsh breaking, speeding, reckless driving, and driver fatigue. A.I. dash camera are the best tool to detect potential unsafe habits and improve driver safety. They are equipped with sensors that can detect when drivers violate compliance like identifying driver fatigue. It will notify fleet Managers of unsafe behaviors like this to prevent unnecessary accidents.
Astreon's latest A.I. Dash cameras can prevent pedestrian collisions, notify drivers of fatigue, lane departure, general collisions for distracted driving, and so much more. The benefit is not just after the fact coaching to prevent future incidents, but live and real time accident avoidance in the vehicle.
HOS (Hours-of-service) compliance
HOS (Hours of service) are mandated rules referring to the maximum amount of time a commercial motor vehicle driver is permitted to be on duty including driving time, and length of rest periods to conduct the truck driver's job safely.
(For more details about the HOS, check our blog: Hours of Service regulation changes. )
Using HOS brings your business huge benefits. Drivers receive alerts when they violate compliance, when to stop working/take rest. It helps drivers increase safety and your business saves time and money. It enables you to utilize resources effectively and optimize scheduling with powerful tools while many drivers are dealing with new restrictions and procedures.
Astreon ELD is a fully a fully compliant ELD solution for upcoming Canada, and US rule sets. Our solution enables carriers to be fully compliant with the mandate while staying adaptable with client needs and requests.
Route optimization
Traffic delay and adverse roads under tight schedule are frustrating for drivers. The routes can change due to unpredicted weather and traffic incidents on the route. Knowing which routes are optimal is one of the important ways for fleet managers to reduce driver's stress, delivery time and improve customer and driver's satisfaction. In order to provide the best route to drivers, you need an advanced fleet management system offering the best routes based on the weather, traffic conditions and other factors.
Astreon's fleet management can optimize routes to get your divers where they need to be faster & safer and complete more jobs within the same time period. Efficient routes also help by prolonging vehicle life span and eliminating unnecessary driving.
Improve communication with drivers and provide better training
Accurate communication between dispatchers and drivers helps reduce human errors, save time and improve customer satisfaction. Poor communication regarding pay, home time, training, and performance can be one of the biggest sources of driver's stress. To improve driver's safety, health, and retention, fleet companies need to have advanced fleet management tools to assess driver's performance, communicate with drivers effectively and train them by observing their driving behavior.
Vehicle maintenance
Having well-maintenance vehicles keeps your drivers on schedule and helps them to complete their job on time. Planning routine maintenance like oil changes, repairs and reducing breakdowns will lead to driver's productivity.
Astreon allows you to automate your regularly scheduled maintenance work by tracking vehicle operation in real time and by sending notifications to your team for a truly preventative and proactive approach. It is designed to control all types of jobs, services, and expenditures for parts, labor, vehicles, and even cost per mile so that you can maximize vehicles and drivers' productivity.
Overall, telematics enables fleet organizations to have better insights to improve driver's safety based on an advanced data. With this tool, fleet managers can control and manage everything, and it will result in improving driver's satisfaction and retention.
Astreon Telematics
We offer GPS Fleet Management services to businesses throughout North America. With location and telematics-based solutions for vehicles of all shapes and sizes, equipment, high value assets, and valuable cargo. Our customers rely on our services daily as business process management tools and benefit from multiple add-on tools and applications such as Compliant ELD, Maintenance Management, Driver Coaching, Video Management Dashboard, KPI Management Dashboards, Logistics & Dispatch tools, and many more. Connect with us today to find out more about how Astreon can benefit your business.