Every business, big or small, understands that technology can significantly help their business. It allows them to automate processes to tackle their challenges and increase efficiency. Pest Control companies are also one of the industries seeking tools to leverage automation.
Market growth in the pest control industry
The pest control industry has been growing steadily and it is expected to increase market growth. Pest control revenue has grown 7.0% to $26.2 billion over the past five years according to an IBISWorld report.
Business owners are realizing that they can better tackle challenges in the industry through technology. This affects improving the delivery of their services.
Business owners in pest control companies not only have to focus on business operations, but also staff management. GPS Fleet Management Software and Telematics help bridge this gap in resources and scale your pest control company by automating processes to save you time and increase your client base.
Using fleet software and telematics enhances work productivity, improves customer service and increases revenue by reducing maintenance costs, increasing customer visits, and improving staff professionalism.
Let's find out how fleet management and telematics are beneficial for pest control companies by exploring a day in the life of a pest control technician and a company that adopts advanced GPS fleet management and telematics.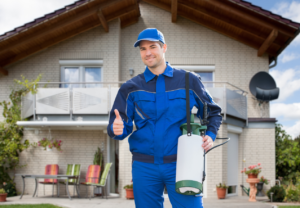 Meet Joe, a pest control technician. Joe's day starts early. He gets up at 4 am and checks his Logistics app to go through his route and customer information for the day. This process replaces all the paper and manual processes that the company used to employ. The Logistics app simplifies any paper-based process and digitizes it.
In addition, if he faces any difficulties or emergencies, he can contact and chat with his Manager via the app, which also allows him to send photos.
After he checks his schedule, he heads to his vehicle and starts a thorough pre-trip inspection. It is mandatory to do a pre/post trip inspection such as the lights, tire pressure, doors, windshield wipers, fluid levels, brakes, etc.
He used to use a paper checklist, however, thanks to technology, he can complete inspections with the Driveroo App from his mobile phone.
The Logistics application is designed to help organize job assignments of field workers at all stages. The application has two components: a web version for operators and a mobile version for field workers which is supported on smartphones and tablets with Android and iOS.
The application allows operators and mobile workers to automate dispatch by Importing jobs or using our API to integrate with your application.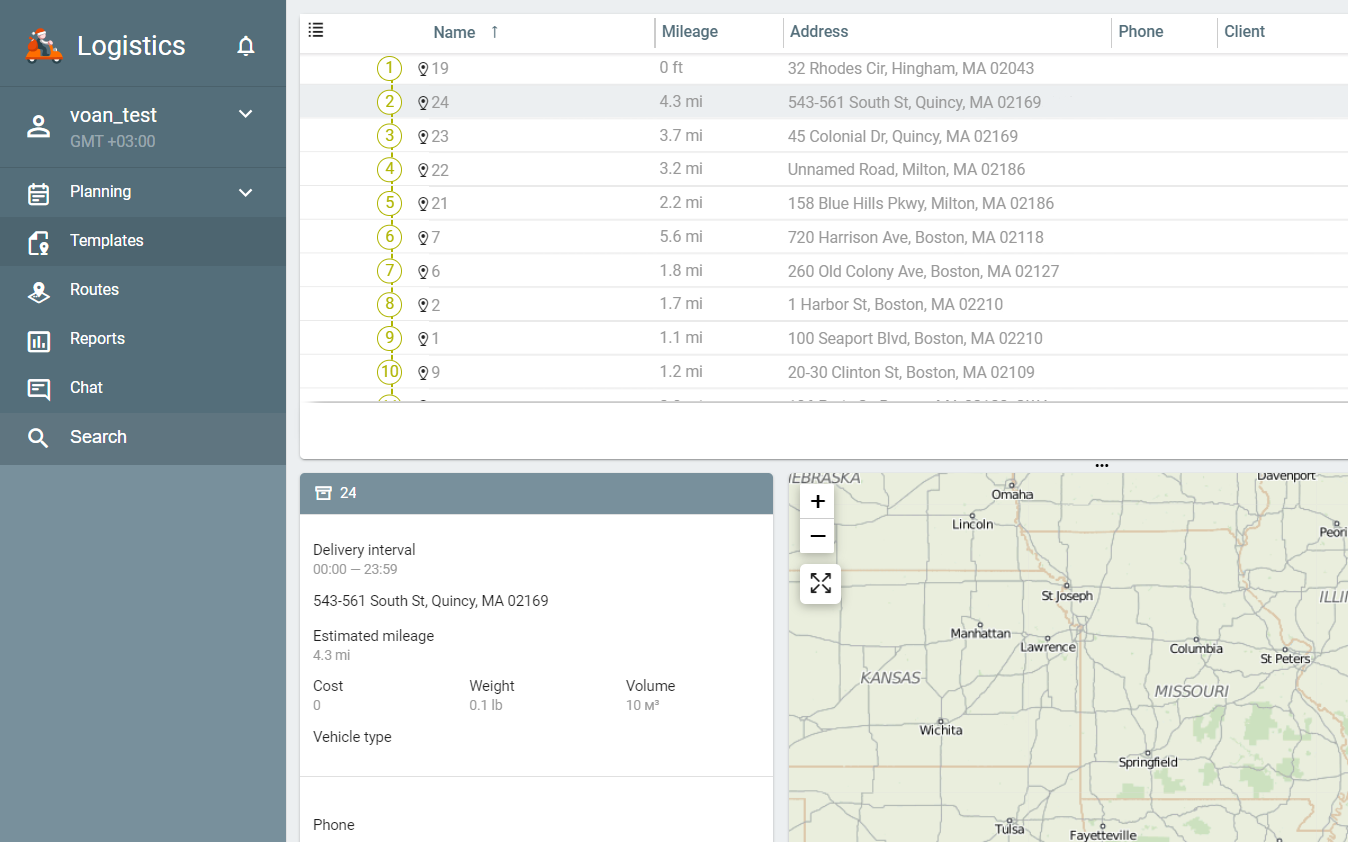 Field workers use the app to check assigned routes, route to destinations, complete a task, capture signatures, call clients, and even attach images. Reporting and Management tools are all included in this feature-rich Logistics application.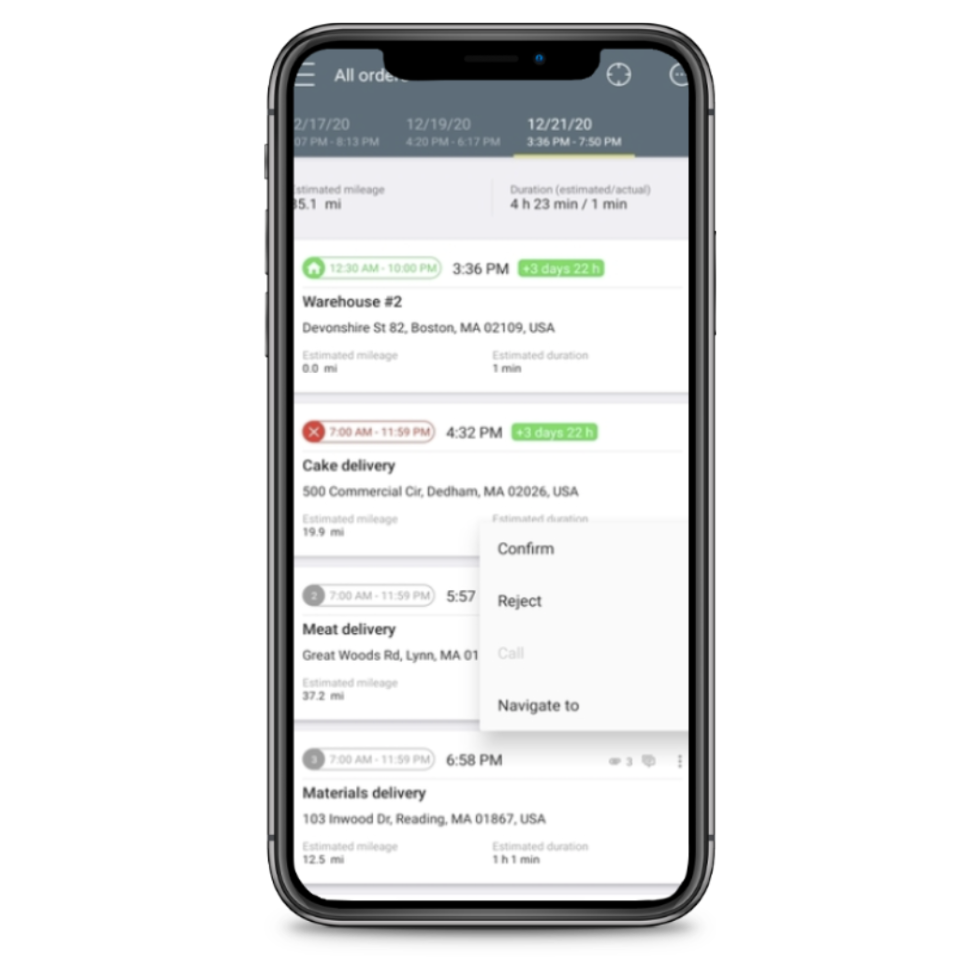 For a mobile version of Logistics, field workers can have access to the following features;
Delivery statuses and Call to a client

Assigning a status to a job like completed or not-complete and call-to-client button.
Real-time routes optimization

Sending the route to the mobile app and provide turn by turn directions using external navigation apps.
A detailed description of jobs

Address, customer requests, price, appointment time, etc.
Communication and photos

Two-way communication and adding comments and photos to a job.
Chat with an operator

A handy chat to notify an operator of any circumstances regarding the service.
By using Driveroo, drivers will have full access to visual inspection workflows from their mobile devices. Driveroo can turn any paper form into a fast, mistake-free automated process to boost operations and lower costs. A driver can streamline the inspection process using the app with a visual, asset-specific interface that incorporates required checklists and captures details, voice, image and video. All drivers need to do is just follow the easy visual guidance and tap to check items, flag issues and share inspection data with a team or a fleet manager in real-time.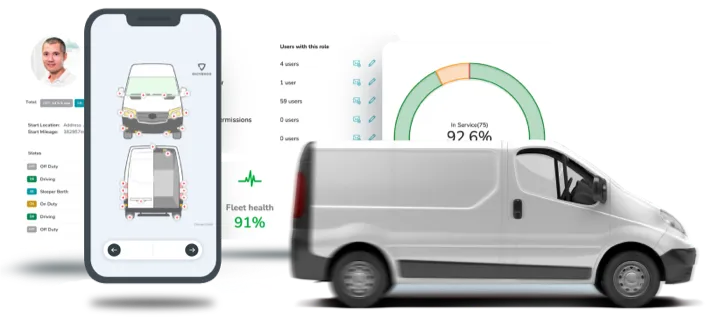 After he checks his routes, customer info, and required services, he drops by a corporate office to collect some chemicals and takes inventory of all his stock.
Joe arrives at today's first customer's location and gets to work performing the service.
Throughout the service job, he fills in a Mobile Form that is customized by his company to perform record keeping, materials used, and report the service. He can also add photos, and sign signatures if needed. He fills in the information about the chemical he used earlier, and whether he had any specific issues.
Mobile forms – Seamless auditing and reporting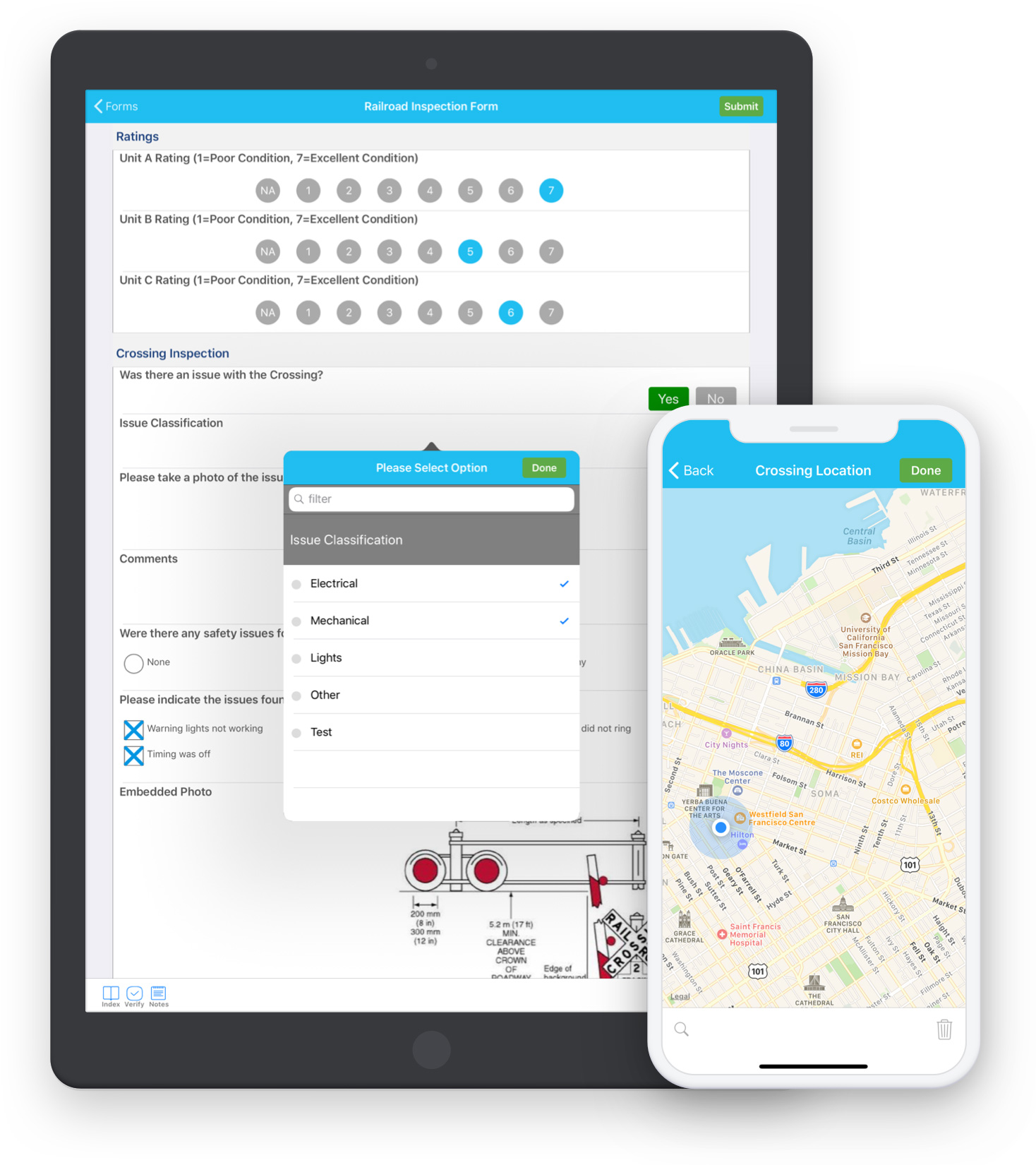 Pest control technicians often need to provide reports and audits with very little notice, to show that they are complying with sustainability and safety regulations. They need to make sure the information is accurate and easily accessible.
The mobile form is a complete and fully customizable solution to transform your paper forms into dynamic, mobile forms to save time and money. Users can build their custom mobile forms using our powerful forms builder, or have our professional services team build them for you. After the form has been built, it can be dispatched or assigned to any number of users who can then complete them using the mobile forms app on their own smartphones, tablets, or through a web form browser.
Once the form has been submitted, it automatically generates reports and/or routes your data to a third party application. Field workers like Joe can submit the form from their mobile phones to make sure their performance has been reported, whereas, operators can collect data, their compliance and safety checks, and documentation related to their service. All documentation can be leveraged to analyze field workers' performance and insights into any improvements.
As Joe completes his first service, he opens the Logistics app to check the next route.
During his duty, his operator monitors and tracks his progress in real-time using Logistics.
Joe completes his customer visits for today. His dispatcher messages him to come back to the office because his vehicle needs an oil change based on the data from the Fleet Maintenance Software.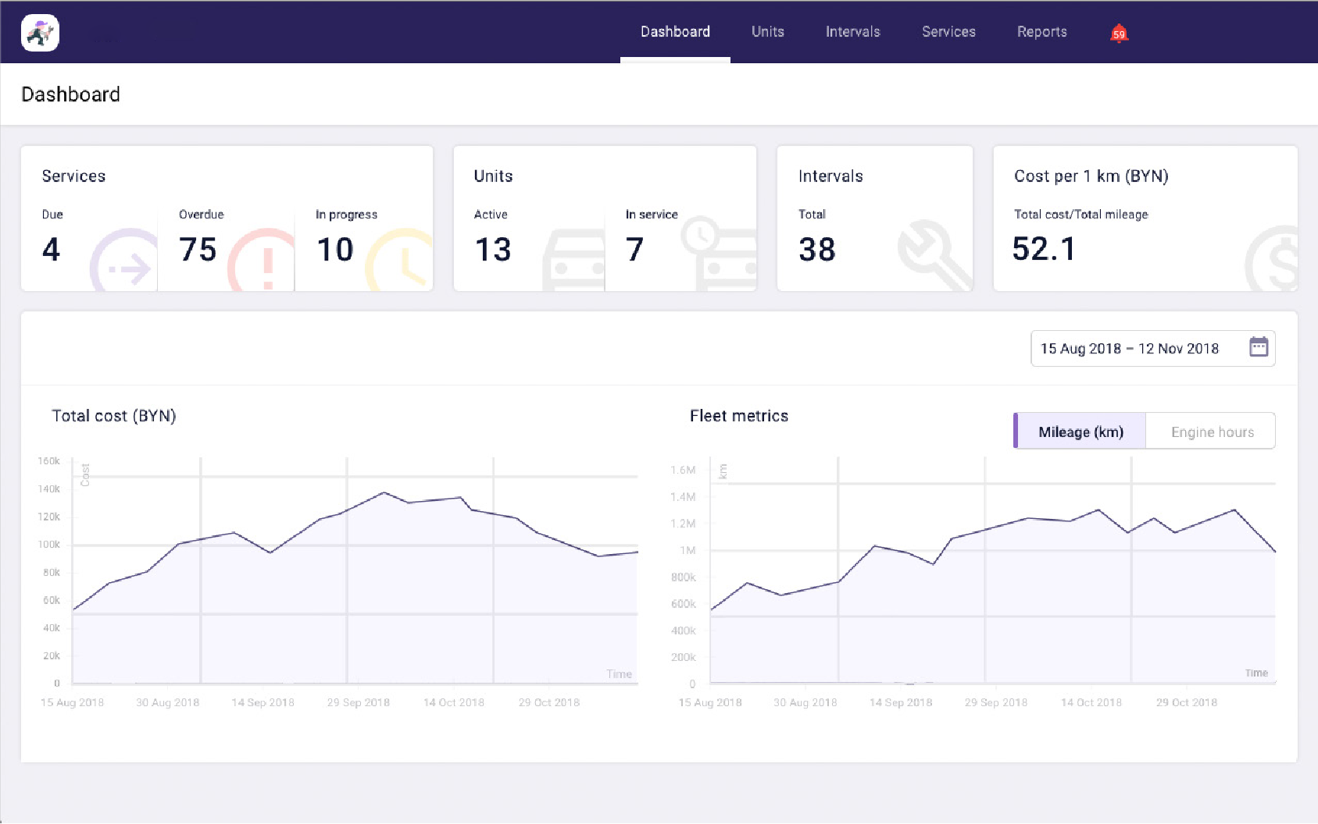 If you knew when to perform maintenance, repairs, inspections, cleanings, etc, you can prolong the lifespan of your vehicles without unnecessary costs. Neglecting routine maintenance on your vehicles leads to unnecessary costs and unexpected breakdowns..
With Fleet Maintenance Software, operators can analyze and make key decisions on the timing of vehicle replacements by monitoring and Tracking data on Fleet maintenance, fuel usage, utility, vehicle wear, breakdown, and accidents incurred by aggressive driving behaviour.
Fleetrun benefits;
All data in a single application

Use Fleetrun instead of paper logs and multi-page Excel documents to plan and monitor maintenance services.
Maintenance management

Register repairs for every vehicle: maintenance work to fulfill, parts to replace, total costs, and the time when the vehicle returns from the service station.
Maintenance scheduling

Set up service reminders and specify their frequency manually, or set up automatic maintenance notifications based on mileage intervals, engine hours, or time periods.
Cost reports

Keep all your repair orders and spare parts expenses in one app. Fleetrun will calculate the maintenance costs of each vehicle individually and the whole fleet in general.
Process digitalization

Save your employees' time and let Fleetrun automatically create services and send notifications regarding their status.
Get Ahead of the Curve by Installing a Comprehensive Mobile Workforce Management System Today
Our Mobile Workforce Management Systems with specialty applications offer a comprehensive solution to help you get ahead of the curve and stay on top of your pest control business. With this system, you can track your vehicles, monitor their performance, and ensure that they are on the right path. You can also access real-time data that will allow you to make informed decisions about how to best manage your fleet. This system is designed to help you save time and money while providing more efficient service for your customers. Investing in comprehensive Mobile Workforce Management Systems with specialty applications today will help you stay ahead of the competition and maximize your profits.
Contact our professional representatives for more information today!